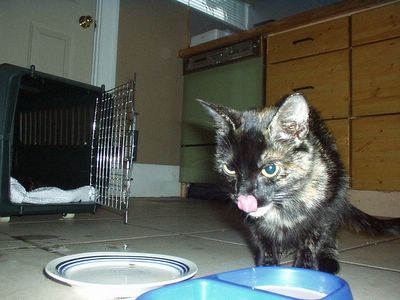 That's Julian ...

I have been meaning to tell this story for a while but, couldn't find the time and then the picture etc, finally its all together. So that's Julian. Julian has a very unusual story. A month or so ago, when school started, Julian started hanging around my friends Jaime and Ryan's (or as we call them, The Murphy Twins) place. Being the animal lovers that they they would occasionally leave some milk water bread and at times pastrami and other meats for Julian. They suspected that Julian, who was at that point an unnamed cat (better known as The Cat), was abandoned by one of their neighbours who had gone home for the summers. The Cat was domesticated enough to prove that she surely wasnt a stray. So that's how things would go, The Cat would show up get some pity food and walk away.
Then one wednesday night, the twins were walking back home when they saw Julian (who had been christened by this time)roaming around the schools vicinity. It seemed Julian was looking for them since it saw them and ran straight up to them. Julian was shivering, Julian seemed unfed, Julian seemed to be shaken. The twins took Julian home, put on the sofa and covered it with a small towel to keep it warm. A little while later, Ryan decided to check on Julian. He was shocked and yelled out to Jaime " Julian is shitting its guts out."
No, it wasnt guts, it was actually the early stages of the miracle of kitten birth. What ryan had seen was kitty placenta. Julian had three kitten that night on the twin's fouton. They have now adopted Julian and her trio for another 4 weeks so that the kids can grow up. After that, Julian and the trio are off to a farm.
The picture up there, is from last night. The twins are in TO and I am looking after Julian and the Trio. So I decided to catch a snap while while Julan enjoys her special strentgh Whiskas milk.
Now is that a cool story or what??